Questions. We've all got 'em. On this page, we'll try to answer two of the most common.
---
Why should I use a travel advisor?
Using a travel advisor can have numerous benefits that can make your vacation planning and travel experiences much smoother, more enjoyable, and stress-free. Here are some of the top benefits of using a travel advisor:
Expert Knowledge: Travel advisors are experts in their field and have extensive knowledge of various destinations, travel companies, and travel options. They can provide you with insider information and help you make informed decisions about your trip.
Time-Saving: Planning a vacation can be a time-consuming process, especially if you are not familiar with the destination. A travel advisor can save you time by doing all the research, making reservations, and handling all the logistics, leaving you with more time to relax and enjoy your trip.
Personalized Service: Travel advisors provide personalized service, tailoring your trip to your specific needs and preferences. They can help you choose the right accommodations, transportation, and activities that match your interests and budget.
Cost Savings: Travel advisors can often secure better deals and exclusive offers than what is available online, saving you money on your trip.
Peace of Mind: Travel advisors are there to help you before, during, and after your trip, ensuring that everything goes smoothly. If anything goes wrong, they can help you resolve any issues and provide assistance when needed.
Access to Exclusive Experiences: Travel advisors often have access to exclusive experiences and activities that are not available to the general public. This can include private tours, unique accommodations, and special events.
Emergency Assistance: Travel advisors can provide you with emergency assistance, such as help with lost passports, medical emergencies, or other unexpected situations that may arise during your trip.

In summary, using a travel advisor can provide you with expert knowledge, save you time and money, offer personalized service, provide peace of mind, give you access to exclusive experiences, and provide emergency assistance if needed. If you are planning a vacation, consider working with a travel advisor to help make your trip the best it can be.
Click here to read about other advantages of using a travel agent.
---
Will using a travel advisor cost me anything?
Our desire is to use our knowledge, expertise and connections to design detailed and highly personalized itineraries that are on budget and on point. Having a fee structure helps us fulfill this goal by allowing us to focus on finding the vacation product that best meets your needs, preferences and budget and not the one that pays the highest commissions.
Not only does paying a fee ensure that a travel advisor works to find the best options for your trip, it also saves you time and money. Americans spend 22.95 hours researching a vacation . Multiply that by the average hourly wage of $32.36, and it's evident that using our services offers a tremendous value.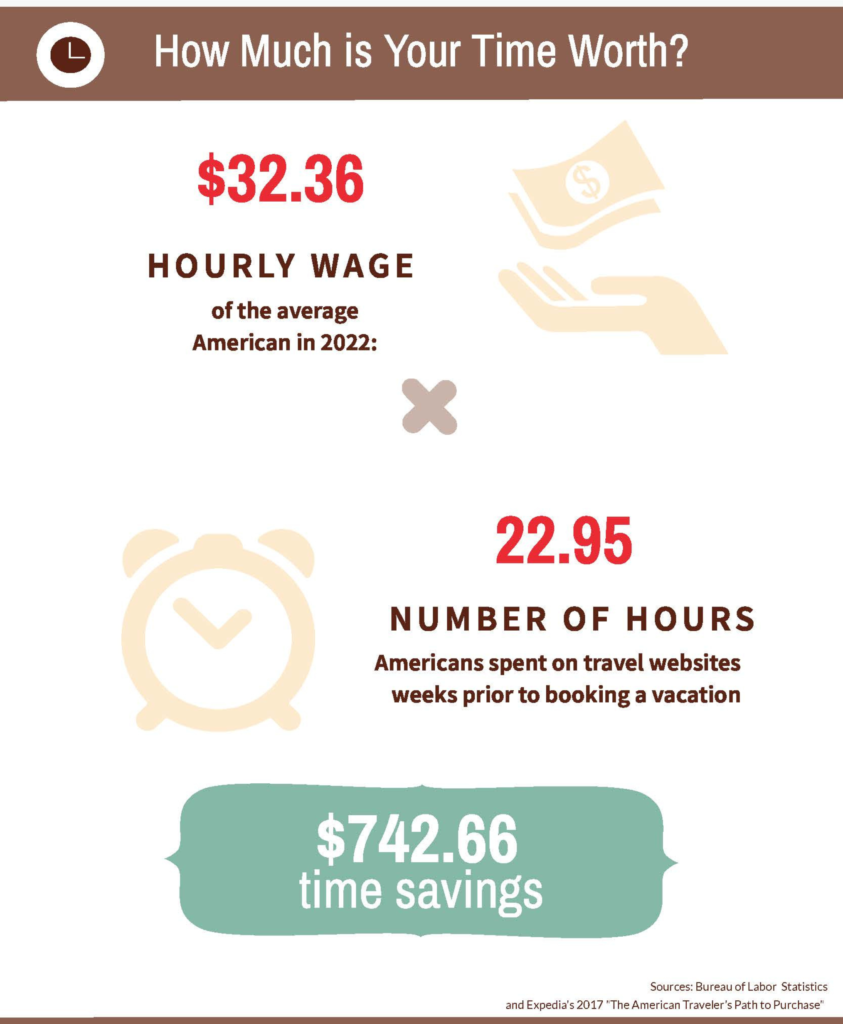 ---
Ready to book your next adventure?